Brian Murphy Precision Engineering Ltd, Laois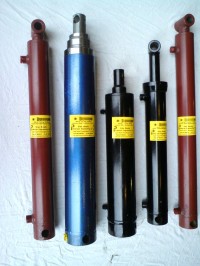 Milling - Turning - Welding
Hydraulic Rams Manufacture & Repair
In business since 1993, Brian Murphy Precision Engineering has built-up a vast knowledge and experience in hydraulic solutions and projects for individual customers through to multi-national companies. Brian Murphy Precision Engineering will provide cost effective solutions to all your common
Hydraulic Ram Repair
and
Hydraulic Cylinders
problems.
With the experiance we have built up over seventeen years in business we can usually advise companies the best way to go with their hydraulic project and the quickest way to solve a problem. You can be assured that your replacement hydraulic part will be engineered to the highest standards.
Hydraulic Ram Repair
We provide all the following hydraulic ram repair services:
Hydraulic ram or hydraulic cylinder strip down inspection

Fast & economical repairs undertaken in days not weeks

High quality replacement hydraulic seals sourced directly from the manufacturers

Replacement parts made from quality materials and rapidly manufactured

The use of Qualified Welding Procedure Specifications and welding Codes

Repair of even the most badly damaged hydraulic rams

Fully equiped engineering workshops equipped with Computer Aided Design / Computer Aided Manufacture (CAD/CAM) and Computer Numerical Controlled (CNC).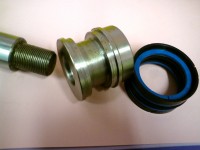 Materials and Seals
We maintain large stocks of chromium plated piston rod material, cylinder tubes and hydraulic seals from the best suppliers in the industry. All materials used for remanufacture are exactly the same as those used in the original hydraulic ram manufacture.
Please
contact
Brian Murphy Precision Engineering Ltd for the best hydraulic advice.

Common equipment that can be repaired are hydraulic rams in use in many different types of machinery such as: Forklift trucks | Excavators | Loaders | Agricultural Machinery | Lorry mounted cranes | Forestry machines | Steering rams | Mobile cranes | Grabs | Compactors | Hatches | Latches | Ramps | Visors | Car decks | Deck cranes | Skip loaders | Industrial machinery | Process machinery | Refuse vehicles | Low loaders | Access platforms | Ships cranes | Slurry tankers | Power stackers | Reach trucks|
How to order your hydraulic ram replacement part or repair
The type of company/customer we deal with can vary from multinationals to individuals needing a hydraulic ram repaired.
In the case of the large companies, if it's a new customer, the first
contact
could be for them to telephone and ask us to go and look at the job/problem. Or they sometimes just bring the job to us and explain what they need.
Quotations
When your hydraulic ram is received for repair it will be assessed and we will provide a quotation for the work. You will then receive a the quotation and time scale for completion of the work, for your approval. Most companies now want a quotation before any work is done. We always give a quote, even to the companies that don't look for one. That way everybody know where they are, and it avoids arguments after the job is complete.
With our established customers; repeat orders are usually by fax or e-mailed order. We manufacture parts for machines or wearing parts that need to be replaced regularly. These are ordered for stock in some businesses. So after we manufacture we deliver in to them, complete new parts ready for use.
With the individual customer. The jobs here can vary from a part broken on a farm machine, to an person designing something and needing a specific type of hydraulic ram manufactured. We can advise on size and type of ram and then make this to the agreed specification. Again we insist on pricing before we start the project.
Testing and Warranty
Any hydraulic ram replaced by us will be fully pressure tested before leaving our premises. We also offer you a full warranty against faulty materials or workmanship.
Contact
Brian Murphy Precision Engineering to be sure of a quick and quality solution to your hydraulic ram replacement or repair requirements